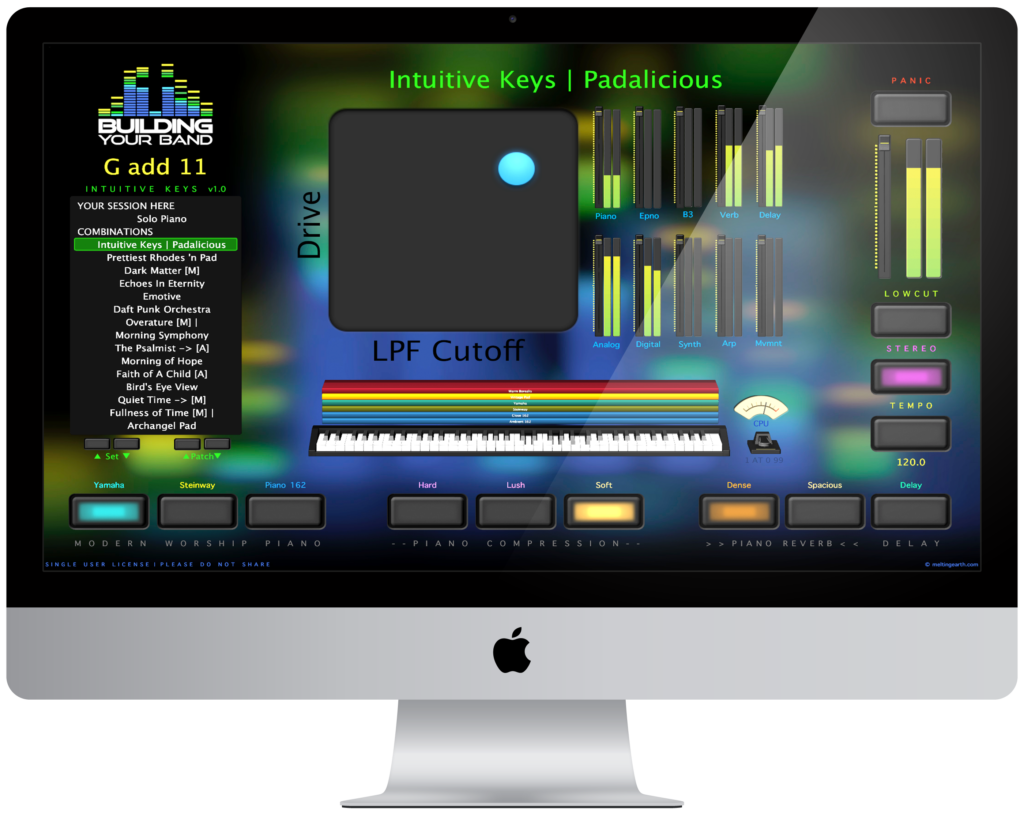 Intuitive Keys MainStage 3 template by Building Your Band is the premium keyboard template for keyboardists who want to dramatically increase the quality of their sound using stock MainStage sounds – no extra plugins or hardware required!
I created this template as a tool to use when I instruct keyboardists by giving them an intuitive way of controlling their sound that doesn't require specialized knowledge.
Intuitive Keys features:
Double-click and go. Run the QuickStart.concert and all stock MainStage sounds necessary for Intuitive Keys load up. All MIDI input, to include your keyboard, sustain pedal, mod-wheel and aftertouch are instantly recognized.
Designed to work without additional hardware. Uses your mod-wheel and aftertouch to modulate complex sounds which route through the appropriately labeled submit meter for visual feedback.
Synth Engine with Fifty patches and fifty combinations carefully tuned to the mod-wheel and aftertouch to control the most compelling parameters of each sound.
Pianos Engine configured at the concert level, always available to be turned on or off over the fifty patches and fifty combinations. Includes a stock Yamaha and Steinway Piano. Additional "series" grow with you: currently Piano 162, and Grand Rhapsody are supported, with all your favorites coming soon in future updates.
Pianos are routed through three compression settings (Soft, Lush, and Hard), that can be sent to two different reverbs (Dense, and Lush), and/or a Delay, at the touch of a button.
Sounds are programmed from the perspective of a keyboardist / producer for a live mix, designed to be warm, anticipating that there will be vocals sitting on top of these sounds.
Get the most from stock MainStage with efficient CPU use.
All licensed users gain access to an exclusive Facebook group of other Intuitive Keys members where we can share resources and ideas about how to get the most out of Intuitive Keys, as well as direct access to me and an opportunity to inform the direction of future revisions and versions of Intuitive Keys
More information available here.
---
---
Want to get your whole team on board? Please contact us for personalized and tailored Single Campus or Multi-Campus support.